Opening reception: Thursady, 24 May, 7pm
Exhibition dates: 24 May – 22 June 2007
Curated by: Kirse Junge-Stevnsborg
Artists: Annika Larson (SE), Anu Pennanen (FI), Archana hande (IN) and Nancy Holt (US)
24.05-01.06 – Nancy Holt (US)
02.06-08.06 – Anu Pennanen (FI)
09.06-14.06 – Archana Hande (IN)
15.06-22.06 – Annika Larsson (SE)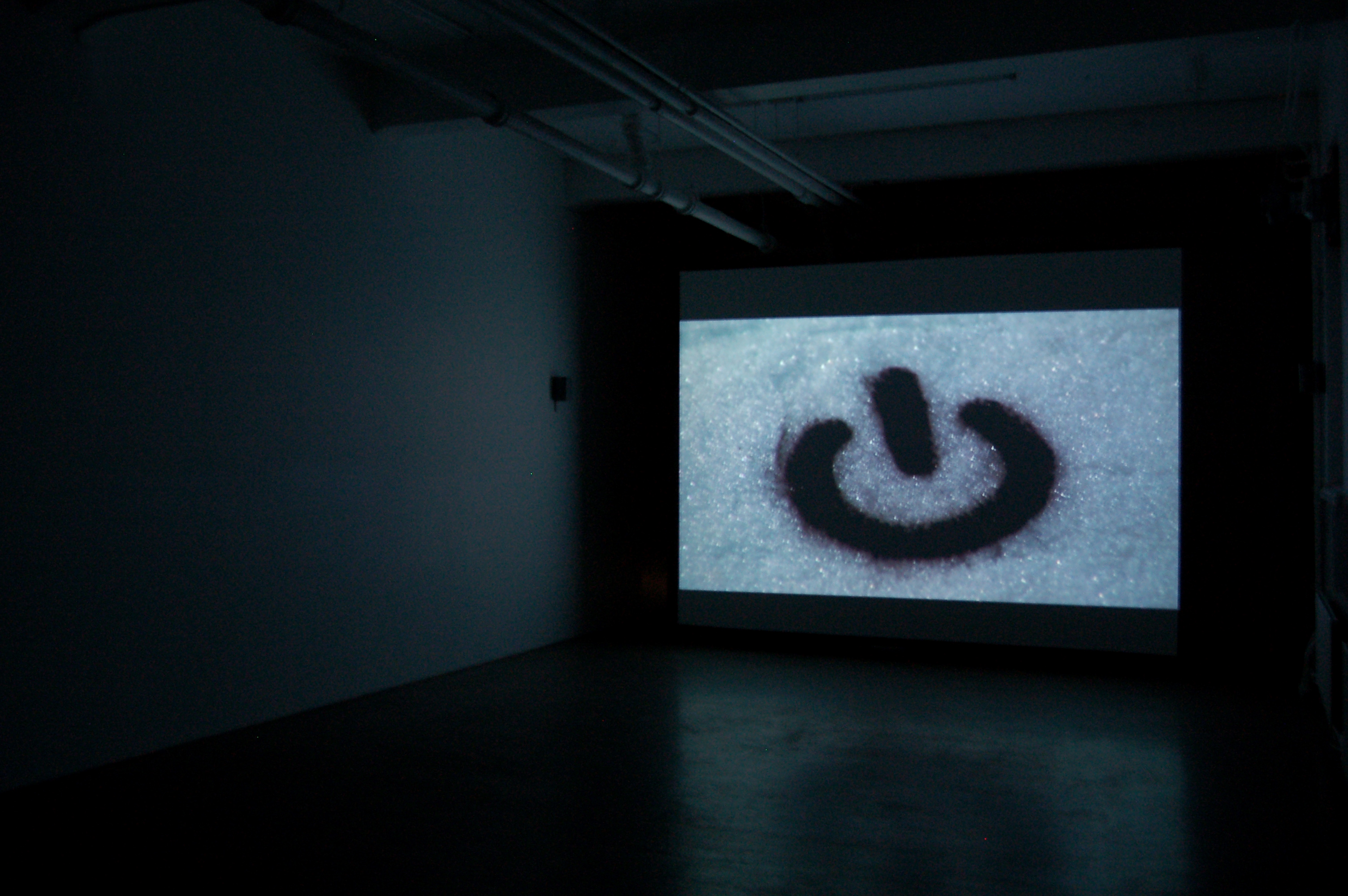 Annika Larsson, Power down, 2007, still from video.
Nancy Holt, Mono lake, 2007, still from video.
The theme of the show is the investigation of natural scenery and cityscapes, documentation and futuristic visions. The films question how we are affected by changes in our surroundings and how we in everyday life are affected by urbanization, technological development and climate changes. Through staged scenarios the films describe peoples need to control nature, identity and social belonging and questions whether it is the cityscape that control human activity – or the opposite. Video Weeks features films by Nancy Holt (USA), Archana Hande (India), Anu Pennanen (Finland) og Annika Larsson (Sweden).
Nancy Holt
May 25 – June 1
Mono Lake, 1968 – 2004 19:54 min
Swamp, 1971 6 min
Pine Barrens, (1975), 30:24 min
A pioneer of earthworks and public art, Nancy Holt has also worked in film, video
for over three decades. In the late 1960s and early 1970s, Holt made a series of pioneering film and video works, including several collaborations with Robert Smithson. Holt's early videos explore perception and memory through experiments with point of view and process. In Mono Lake Nancy Holt together with Robert Smithson, Michael Heizer visited California's Mono Lake in July of 1968. Mono Lake candidly captures the young artists as they explore the haunting landscape of one of the oldest and most distinctive lakes in North America. Heizer and Smithson are heard reading facts about the unique ecology, geology and natural phenomena of this alkaline lake; these dry recitations are interspersed with their anecdotal descriptions of their actions at the site. Mono Lake is a document of a unique natural environment, a "home movie" of the artists' 1968 road trip, and an intimate view of three seminal figures in the earth art movement as they interact with the Western landscapes that are so central to their work. In Swamp Nancy Holt and Robert Smithson confront issues of perception and process. Holt walks through the tall grasses of a swamp while filming with her Bolex camera, guided only by what she can see through the camera lens and by Smithson's verbal instructions. The viewer experiences the walk from Holt's point of view, seeing through her camera lens and hearing Smithson's spoken directions. Vision is obstructed and perception distorted as they stumble through the swamp grasses.
Holt has stated that Swamp "…deals with limitations of perception through the camera eye as Bob and I struggled through a muddy New Jersey swamp. Verbal direction cannot easily be followed. As the reeds crash against the camera lens blocking vision and forming continuously shifting patterns, confusion ensues." Pine Barrens is concerned with evoking through film a barren wilderness in south-central New Jersey. The camera is always in motion — tracking, pivoting, and walking through the landscape. Though they are never seen in the film, the voices of the local people, the 'Pineys,' are heard relating their feelings about the land, their attitudes about city life, their myths of the area, etc. their voices and the music of 'Bill Patton's Pine Barrens Trio' add a psychological dimension to the landscape."
Nancy Holt is born 1938 in USA.
Anu Pennanen
June 2 – June 8
A Monument for the Invisible, (2003), 12:23 min
Friendship, (2006), 30 min
In her urban film project A Monument for the Invisible, Anu Pennanen is investigating to what degree our collectively created surroundings are staging and narrating us and reversely. The central part of her project is a semi-fictional film depicting two new commercial zones in Helsinki, built in the typical corporate style of steel and glass. Johanna, the main character, is acting both as herself and as a fictional person. Through her Helsinki is thus represented and investigated both as an actual geography and as a fictional location. Johanna, both the fictional and real, is blind. But her blindness is not represented as a handicap but as a natural form of resistance towards the modern cityscape. Johanna is an explorer and analyst of the urban surroundings, not a victim. Normally we think that we're grounded in space (and time) through vision and that vision allows us freely to master our movements in space. But Johanna shows us that the sighted is actually more controlled by the environment than the blind. Sighted persons are simply moving in the directions that they're visually told to while the blind has to find his or her own ways around step by step and thus has a very grounded and concrete experience of the cityscape. . But even though our surroundings might stage us in a certain fashion Pennanen wouldn't claim that we're being suppressed by them.
Sõprus (Friendship) depicts the urbanization of the cityscape of the capital of Estonia from the perspectives of teenagers who live there. Placing itself between documentary and fiction, the film draws a parallel between the teenagers' own growth processes and the recent development of the city. Two groups, Estonian and Russian, separated by language and history, are getting curious about each other. These issues are framed against the backdrop of historically charged city locations Linnahall cultural centre and Maarjamäe Memorial site and, in contrast with these, the recently opened shopping centre Viru Keskus. These spaces were originally planned by authorities for specific public purposes. The teens, who spend more time drifting than others, occupy and transform these places into the sites of events that differ from what the official purpose of the place would suggest. The film is based on workshops, texts and discussions with the nine teenagers featured in the film. Their daily experiences float casually in these public spaces —despite the dominant and alienating nature of the environment. The individual experience is set in dialogue with the monumental aspects of architecture and cinema.
Anu Pennanen is born 1975 in Finland.
Archana Hande
June 9 – 14
An Epic (2003-2004), 30 min 47 sec
The starting point for the film is the working methods of the scroll painters, so called Pata-Chitrakars, who are working in the village communities in the Midnapur region of West Bengal, India. The scroll painters were originally nomads and did not belong to any religion. When the settled down, they entered the governing religion in the area where they chose to put down roots. Today the scroll painters have Muslim and Hindu names, even though few of their ancestors were Hindus or Muslims.
The scroll paintings often present narratives that offer complex challenges. Some take up political questions in their own society that link up to global political events, such as the terrorist attacks in USA on September 11th 2001 and the result, the war in Afghanistan. One such event is The Gujarat carnage and the repression of minorities in Gujarat, India.
Archana Hande is born 1970 in India.
Annika Larsson
June 16 – June 22
Power Down, (2006), 19:54 min
Power Down focuses on technology as a religion, techno-reality, mediated existence and environmental destruction. The video depicts a cult, a group of ecogeeks/anarchogeeks, adults and children outdoors on a hill. Dressed in anoraks and in brands such as Fjallräven, a back-to-basics, old school functional outdoor brand, they engage in interactions with supernatural, religious, and magical motifs. Worship of or play with a dead bird. Symbols and objects referring to technology, power and speed, here subverted into religious signs or memorabilia. Close ups of actions and signs; a pinwheel in motion, a subverted Nike logo, the power symbol sprayed on the ground, and the copyleft and copyright – symbol in a fusion of one. Romantic and dystopic, the work refers to Paul Virilo's idea of dromology and of speed and the accident.
Annika Larsson is born 1972 in Sweden.
Video Weeks is produced by Gävle Konstcentrum.
Video Weeks is supported by EPSON.