Høyblokka Revisited – Ideas and Visions
Opening reception: Friday, 27 March, 7pm
Exhibition dates: 23 March – 11 May 2014
Curated by: Markus Richter
Contributors: Lund Hagem Arkitekter, Christoph von Mach / Lars Goossens, Jan Christensen /Mmarius Dahl, Se Studio, Erlend Aalmo Strønstad / Agathe Monnet / Leila Maitia, Kollaboratoriet, Ugo Ribeiro/Alex Perret, Zamaas (Øystein Aasan/Marianne Zamecznik), Ivan Brodey / Einar Malmquist / Ingerid Almaas, Francisco Rocha / Ricardo Morais Sousa, Superunion architects with Martin Braathen / Even Emith Wergeland, Jonas Gunerius Larsen, U67, Kaleidoscope, Izabela Zólcinska, Eriksen Skajaa Arkitekter, Nicolò Ornaghi, Hans Martin Frostad halleraker, Toni Kauppila, Sofie Flakk Slinning, Andreas H. Tingulstad / Asha Biant / Solveig Larsen / Ole Morten Birkeland / Kenneth Hinkel / Vegard Sanne Havnevik / Kurt Breitenstein, Björn Ehrlemark / Carin Kallenberg, Wood Arkitekter, Transborder studio, Framifrå Arkitekter, Beam Architects, PML  Arkitektur,Noel Brady, Tormod h. Førre / Mattias Gunneflo / Wihelmine Førre, José Ramos Nieto, Erik Fenstad Langdalen, Predrag Stefanovic, Høyblokka and y-blokka, Teigens Fotoatelier, Luismi Romero, Bjørn Cappelen, Sara Armento, Ingerid Almaas, Magnus Nilsson, Nina Svenne, Nicholas Møllerhaug, Equanorth, Lisa Pacini and Vibecke Yrstad.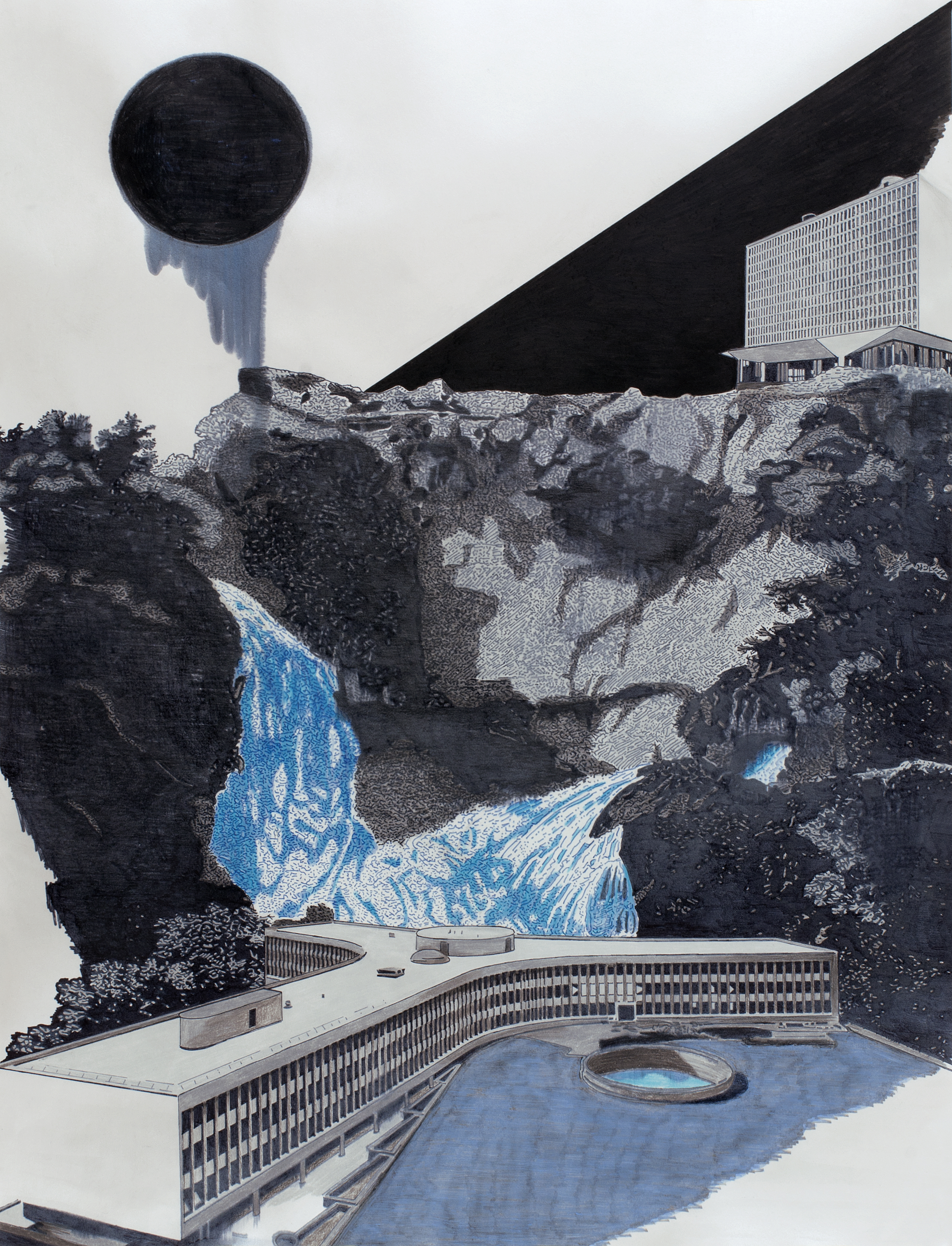 Høyblokka revisited – Ideas and Visions
In February, 0047 initiated in co-operation with the magazine Arkitektur N an open call inviting architects, artists and the general public to sketch their respective visions for the government district, and in particular Erling Viksjø's Y- and Høyblokka. We asked for visions that go far beyond the scope of function, as well as for pragmatic solutions, for drafts and for building designs, for intermediary projects, and for more conclusive design ideas.
After a design phase of five weeks, the results of the open call will be presented at 0047's exhibition space at Schweigaardsgate 34D. We have the pleasure to invite you to join the opening of Høyblokka revisited – Ideas and Visions on Thursday, March 27th at 7 PM.
The open call is not an architectural competition in a narrow sense; it is a bottom-up planning initiative which shall stir and enrich the debate about the future of the government district. Planning the future government district might not seem like an appropriate opportunity for participatory design strategies. However, the government district is a very particular site, loaded with history and framed by persistent debates about the nation's built identity, Oslo's architectural heritage and the heart of the city. The site was forever marked by rightwing terrorism, leaving a hole in the self-image of Norwegian society. To fulfil the essential needs of this loaded situation takes more than mere matter-of-fact expertise and technical reports, and goes beyond purely practical considerations.
The open call is a 'dugnad', a voluntary input in the debate, and hence we do not award prizes. Instead, we will present as many proposals and projects in the exhibition as possible. We received more than 50 submissions, mostly from Norway; but also artists and architects from Poland, Italy, Germany, Ireland, France, Portugal and Spain responded to the open call. The proposals range from sketches and drawings to poems, manifestos and fully developed architectural designs, proving impressively that Viksjøs significant complex is much more than "just a building", and that the future development of Oslo's government district needs to be subject of an open, democratic process, involving experts as much as the general public.